The World Artificial Intelligence Conference 2020 with the theme of "Intelligent Connectivity, Indivisible Community" was held at Shanghai EXPO Center between July 9 and 11, 2020. The conference adopted the "summit online" mode for the first time. More than 20 industry forums were held and over 550 speakers were invited, including 7 Turing Award winners, 1 Nobel Prize winner and 62 Chinese and foreign academicians. The conference focused on AI technology and expressed the common concept of AI for the benefit of the world.
A total of 36 major AI industry projects in Shanghai were officially signed at the conference at 16:00 on July 11 as the grand finale. Government leaders such as Gong Zheng, Deputy Secretary of the Shanghai Municipal Committee of the CPC and Acting Mayor of Shanghai and Wu Qing, Member of the Standing Committee of Shanghai Municipal Committee of the CPPCC and Deputy Mayor of Shanghai attended the signing ceremony. CASCO was the only high-end intelligent rail transit equipment enterprise that has been proposed and finally selected in Jing'an District. On behalf of company, CASCO's President Yang Haidong officially signed a memorandum of cooperation with Yu Yong, Secretary of Jing'an District Committee and District Mayor for the platform construction of the "Shanghai Engineering Research Center of Driverless Train Control of Urban Guided Transport" and the development of related intelligent sectors. The government-enterprise cooperation aims to comprehensively promote the development of high-end intelligent equipment for urban rail transit, create an innovative ecosystem for the intelligent metro industry and verify relevant application scenarios. The cooperation will also showcase AI innovation and big data applications in rail transit, cultivate and bring together high-end technical talents, and build industrial alliances.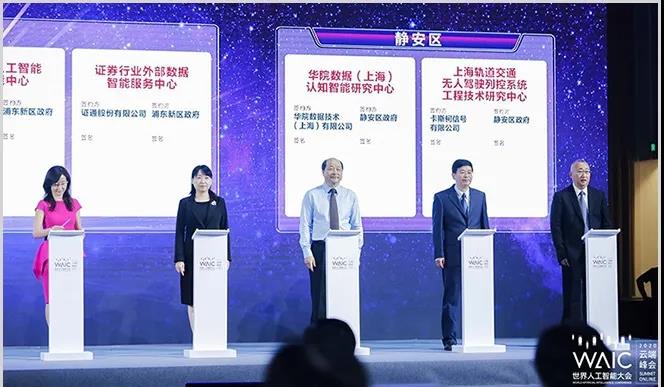 Signing ceremony for key AI projects in Shanghai
Led by CASCO, Shanghai Engineering Research Center of Driverless Train Control of Urban Guided Transport is co-founded by Shanghai Shentong Metro Group Co., Ltd., Tongji University, East China Normal University and Shanghai University. The Center is a ministerial- and provincial-level platform featuring integrated development of industries, universities, research institutes. It conducts cutting-edge technology research, focusing on key intelligent metro technologies and applications represented by "fully automatic operation".
With the Center as a model platform for intelligent technology innovation in the rail transit industry to achieve the goal of government-enterprise cooperation, CASCO will work with the co-founders to continuously provide the Center with talent, capital, technology and other resources. The Jing'an District Government will also provide all-round policy support for the construction of this world-leading platform for innovation that focuses on the research, development and application of "AI+ rail transit". The Center will continue to focus on smart metro and conduct independent development of key technologies , such as fully automatic operation, integrated intelligent cloud platforms, smart operation and travel based on big data, and the new-generation high-performance V2V communication. It will also accelerate innovation and commercialization of relevant pilot applications. By doing so, the Center will be able to provide Shanghai wisdom and solutions for the AI empowerment and application of rail transit in China and around the world, so as to realize the leading "AI+ rail transit" technology and the industry upgrade, and start a wonderful new phase of "AI+ rail transit".