The high-profile Shanghai-Suzhou-Nantong Railway went into operation on July 1, marking a milestone of the high-speed railway network construction under the Yangtze River Delta Integration strategy. The railway was equipped with LKD2-KA train control center and TSRS-KA temporary speed restriction server developed independently by CASCO, ensuring the safety of this important coastal railway.
The LKD2-KA train control center and TSRS-KA temporary speed restriction server play key roles in the ground train control system. The train control center receives the track circuit status, train route information, temporary speed limit command and other information, and generates a driving permit after rigorous safety logic computing in its "magical brain". The track circuit and active transponder transmit the permit to the train, so that the train generates a driving instruction based on the received driving permit information, thereby controlling the safe and efficient operation of the train.
The LKD2-KA train control center is one of CASCO's core products in national railway, featuring outstanding safety, reliability and maintainability. It has been used in Baotou-Xi'an Railway, Yunnan-Guizhou Railway (Yunnan section), Kunming-Chuxiong-Dali Railway, Meizhou-Shantou Passenger Railway, etc. across the country, ensuring the daily safe operation of trains.
· Safety
The product has passed the international third-party SIL4 safety certification, and adopts the independent safety check system VPS based on the 2oo2 technology, double-break stable data technology, double-break collection technology, NISAL technology, and BIT technology.
· Reliability
The product adopts a multi-redundant design and dual-network redundant structure, mutually independent computer power protection, partition filtering and other technologies to improve system reliability and ensure safe operation of the system.
· Maintainability
Designed in the principle of separating software from data, the modular software provides electronic system diagnosis and online version verification, to realize high maintainability, greatly improve the on-site maintenance efficiency, and reduce engineering impacts.
In addition, CASCO has actively participated in Shanghai Railway Hub C2 connection transformation, an important supporting project of Shanghai-Suzhou-Nantong Railway. The project upgrades the system capacity of Shanghai Railway Hub from C0 to C2, to meet the needs of steering high-speed trains equipped with C3 onboard equipment at speed of 350 km/h, like Yancheng-Nantong High-speed Railway and South Jiangsu Riverside Railway, to Shanghai Railway Station and Shanghai Hongqiao Station through Shanghai-Suzhou-Nantong Railway.
This transformation involves 19 stations (sites) and multiple railway lines, and is conducted on the existing Shanghai hub area and Beijing-Shanghai and Shanghai-Kunming railways. Due to the complex construction situation and multiple interfaces, this project is highly challenging. CASCO provided multiple sets of LKD2-KA train control center, TSRS-KA temporary speed restriction server and network management server for Shanghai hub C2 project, and completed the interlocking transformation for five stations and upgrading of CTC for three stations and the dispatching center.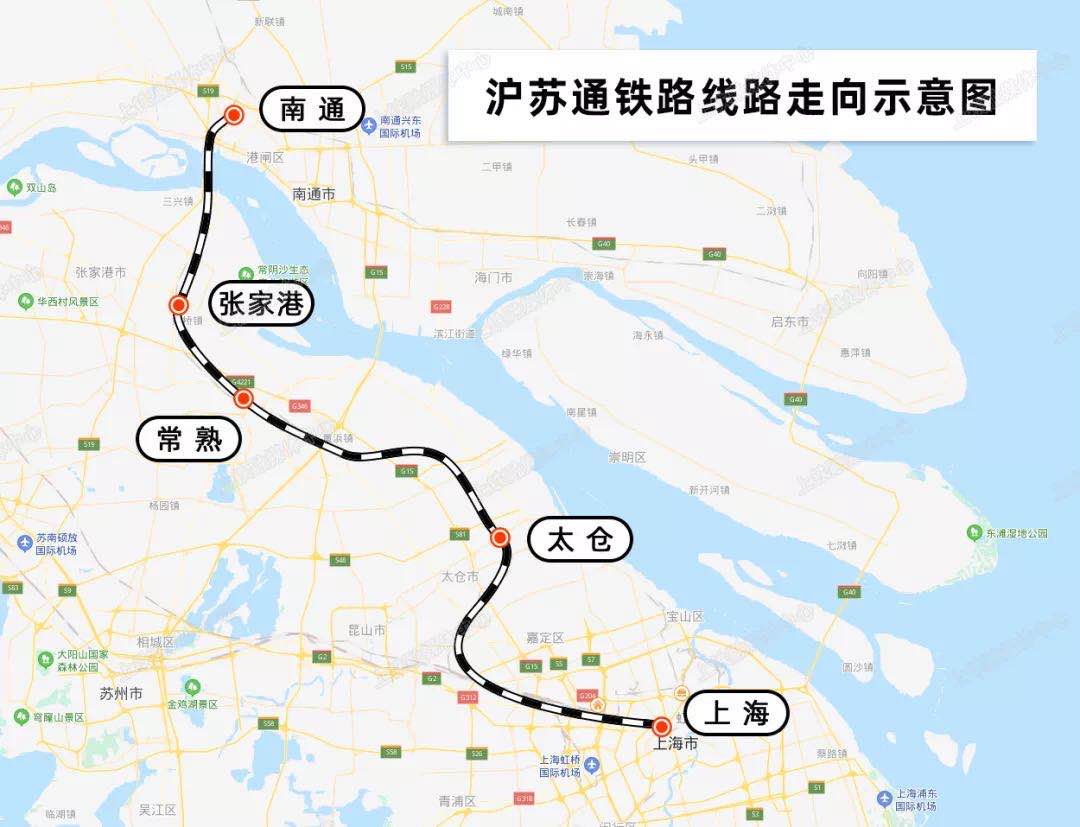 Route map of Shanghai-Suzhou-Nantong Railway
Source: Shanghai Railway Administration
Shanghai-Suzhou-Nantong Railway, a high-speed railway connecting Shanghai and Nantong, is an important part of the coastal channel in the national "eight vertical and eight horizontal" high-speed railway network. It is 143 kilometers long with 9 stations and design speed of 200km/h. After this railway goes into operation, the minimum travel time from Nantong to Shanghai will be reduced from 3 hours and 30 minutes to 1 hour and 6 minutes, greatly facilitating the travel of citizens along the railway. In addition, as an important part of Beijing-Shanghai Railway II, the opening of Shanghai-Suzhou-Nantong Railway allows CRH trains to enter railway trunks including Beijing-Shanghai Railway, Shanghai-Kunming Railway, and Shanghai-Nanjing Railway, spurring the integration process of the Yangtze River Delta and the construction of national high-speed railway network.