On July 21 and 22, Shaanxi Railway Logistics Group Co., Ltd. hosted the "dual-intelligent" high-end forum and equipment & technology exhibition with the theme of "building intelligent railway, developing intelligent logistics" in Yulin, Shaanxi Province. Many academicians and industry experts attended the event, discussed the development of intelligent railway and intelligent logistics, and made suggestions for the construction of a "dual-intelligent" enterprise. CASCO was invited to attend the exhibition.
During the high-end forum, Railway Intelligent Train Control Lab co-built by CASCO and Shaanxi Railway Logistics Group was inaugurated. The two companies will build the lab based on the co-established project of "key technology research of moving block intelligent train control system based on Beidou satellite positioning", perform relevant scientific researches and experiments, improve the transportation capacity of Jingshen Railway, and build the lab into a provincial and national key laboratory.
Chen Shiwen, General Manager of Shannxi Railway Logistics Group and Yang Haidong, President of CASCO Signal Ltd. attending the inauguration
As an industry leader, CASCO has continued the innovation and development of the freight railway signaling system. During this equipment & technology exhibition, CASCO has presented its advanced moving block intelligent train control system based on Beidou satellite positioning, and railway integrated dispatching system for the application demand of freight railway, getting high attention and wide recognition.
Moving block intelligent train control system based on Beidou satellite positioning
Based on the existing research and development achievements of the train control system, CASCO pioneered in developing the moving block train control for the heavy-haul freight railway based on Beidou satellite positioning. The system introduces key technologies such as multi-source fusion train positioning based on Beidou satellite positioning, autonomous train integrity detection of air pressure, position and speed information, electronic map and IP-based vehicle-to-ground wireless communication, which cuts the number of trackside signal equipment, achieves little maintenance of station equipment and zero of interval equipment, reduces the maintenance difficulty and workload. The system is featured by strong applicability, advanced technology and convenient operation and maintenance.
Integrated railway dispatching system
With the train dispatching command system (TDCS/CTC) as the core, the integrated railway dispatching system can dispatch command, organize transportation, manage freight and share information through professional and close coordination, accurate planning, automatic route control, automatic information collection and intelligent data analysis. In this way, the system guarantees the safety of transportation in a low cost, improves operation management and quality of service, and develops into a dispatching system which integrates the intelligent control, management and decision.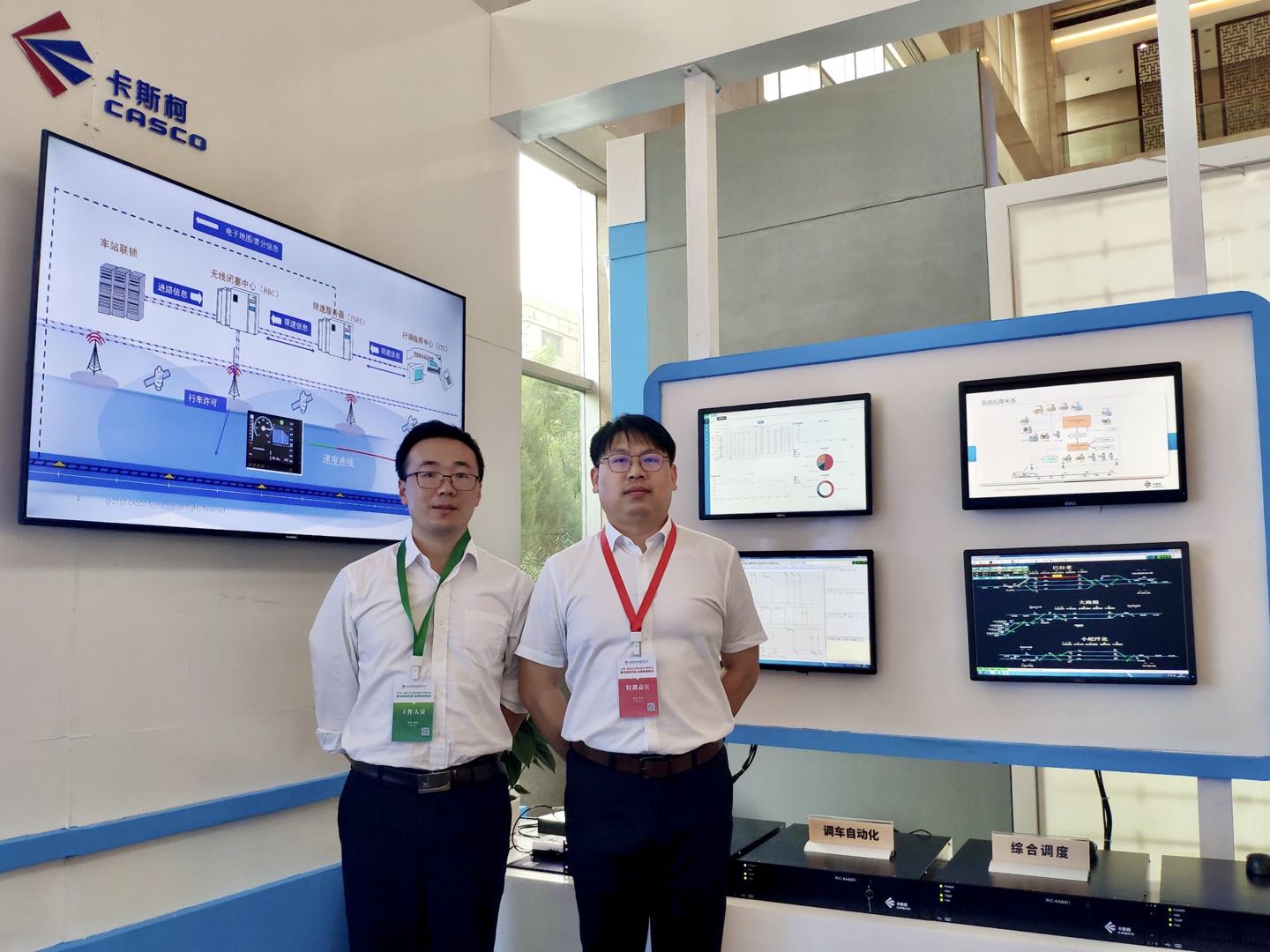 CASCO exhibition booth
In September 2019, CASCO supported Jingshen Railway to go into operation, which was built by Shaanxi Railway Logistics Group, and equipped the "strong brain" FZk-CTC3.0 centralized traffic control system for Jingshen Railway. In addition, CASCO has customized an integrated railway dispatching system for the newly-built general dispatching center of Shaanxi Railway Logistics Group, which has realized highly automated and intelligent railway transportation management of the Group through the unified dispatching command of various resources.
The construction of railways is key to building a powerful transportation country. As an all-round rail transit control system integrator, CASCO has continued innovating and promoting the development of the industry and technologies in the wide market of local railways, providing signaling systems and customized services for railway companies such as Huainan Mining Industry (Group) Co., Ltd., Huaibei Mining Industry (Group) Co., Ltd., Datong Coal Mine Group Co., Ltd., Shuohuang Railway Development Co., Ltd., Pingmei Shenma Group, Lu'An Group, and Shaanxi Railway Logistics Group Co., Ltd. In the future, CASCO will continue serving local railway companies, developing advanced technologies based on actual demands, and making contribution to the construction of local railways in China with more advanced products and comprehensive services.